Since its first introduction in 2005,
Severance Hospital performed over

10,000 robotic surgeries using da
Vinci robotic surgical system as of

November 2013, which is the world's first achievement as a single

institution.
Although robotic surgery is
cutting-edge medical technology, it is
usually employed in limited cases,
such
as prostate cancer.
However, Severance has garnered
astonishing success and widened the
horizon of robotic surgery by
operating
on patients with thyroid cancer,
stomach cancer, and colorectal cancer.

Furthermore, Severance has introduced
this technology to earnose-throat (ENT),
open-heart surgery,
cardiovascular
surgery, obstetrics & gynecology, and neurosurgical fields.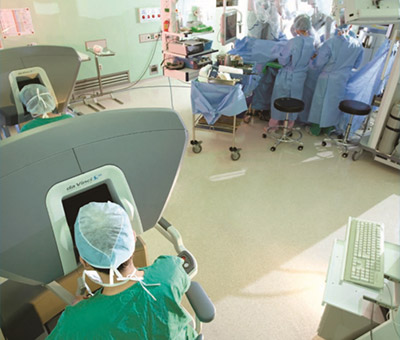 Robotic surgery statistics


at Severance Hospital

(July 2005 ~ November 2013)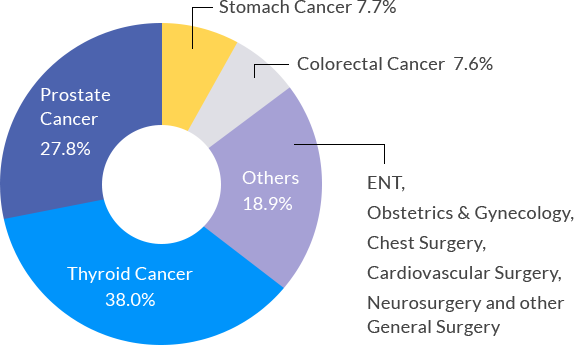 Severance Robot and MIS
(Minimally Invasive surgery) Center
Severance established the Asia-Pacific
Education Center, which specializes in robotic operations.

With the support from da Vinci surgical system creator Intuitive Surgical Inc.,
Severance is increasingly developing its capacity for technologicaladvancements.

Local doctors and nurses from 10 major
universities as well as large-scale
hospitals in the U.S., and over 600
doctors from across the world have
visited Severance to observe robotic surgeries.
Our Successes
Today, an estimated 96% of all prostate
cancer patients that underwent robotic
operations are disease free. Robotic
surgery has thus become standard in treating all prostate cancer cases.

At Severance Hospital, prostate cancer
surgeries account for 28% of all robotic procedures.

From 2005 to 2013, the hospital
experienced an increase in the number
of prostate cancer robotic surgeries
from less than 10 to over 2,800
surgeries.
Thanks to successful robotic
surgical procedures, the hospital not
only matches but also exceeds the
success rates of renowned hospitals
worldwide.