Severance leads
the
medical industry in Korea
The strong network between these
institutions
as well as their specialized medical services
Yonsei University Health System is comprised of the following:
Severance Hospital (including 5 specialized Hospitals, International Health Care Center, Severance Robot and MIS Center) and Dental Hospital in Sinchon, Seoul; Gangnam Severance Hospital in Gangnam area, located in the Southern part of Seoul (including 3 Specialized Hospitals) and 2 local hospitals in satellite cities near Seoul.
The strong network between these institutions as well as their specialized medical services are what give Yonsei University Health System its invaluable strength.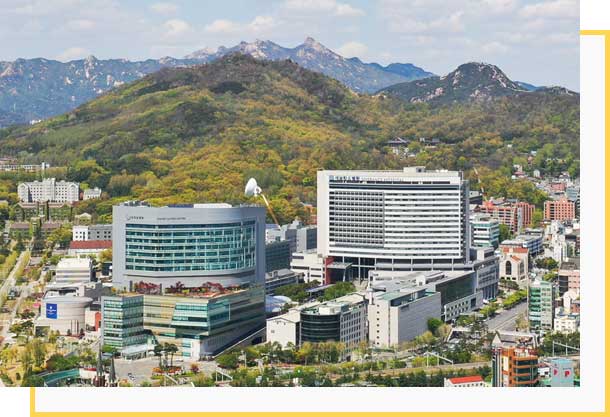 Introduction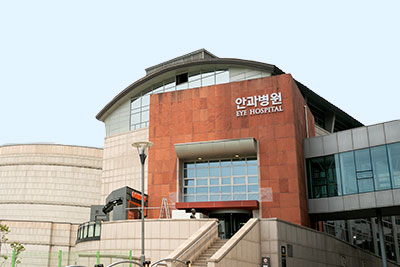 We'll see and hear with the patient together.
We'll take care of you with all our heart.
We began operating as the nation's first independent ophthalmology department in 1923, after Hong Seok-hoo, one of the first graduates of Chejungwon Medical School, started to perform ophthalmologic medical care in 1908. Then, in October 17, 1996, the first EYE & ENT Hospital was established, with the goal of ensuring patient convenience and specialist medical care. Finally, the EYE Hospital was rebuilt as the EYE Hospital on September 1st, 2019.
We offer advanced medical devices and a pleasant environment for medical care, provided by specialized subdivisions. We handle an average of 700 patients a day, thanks to our efforts to reduce the waiting times. Our Ophthalmology Department, which is recognized for its innovative medical care including the development of the nearsightedness ophthalmostat, photodynamic treatment for macular degeneration, and a one-day hospitalization system furthermore runs a Cataracts Clinic, Myopia Correction Clinic, Glaucoma Clinic, Retina and Vitreous Clinic, Laser Clinic, Pediatric Ophthalmology and Strabismus Clinic, Ophthalmoplasty Clinic, and a Low Vision Rehabilitation Clinic as well as the nation's first Behcet's Disease Specialist Clinic that was established for the purpose of diagnosing and developing treatment methods for Behcet's disease, which is endemic in Korea. In particular, the Visual Function Development Laboratory that is committed to identifying the causes of visual disorders and the studying treatment and preventive methods for such disorders, organizes multiple workshops for nation-wide residents and attends foreign societies, which is contributing to the development of Korean ophthalmology.
We have also engaged in an exchange program for education, research and medical care with the Wills Eye Hospital (Thomas Jefferson University Medical College, US), which is one of the world's top four eye hospitals, as well as one of the oldest specialist eye hospital in the US, and is developing as a world-class laboratory.
Additionally, we opened the Retinal Center in May 2006, where we provide an even more pleasant environment with specialized and characterized medical care, as well as a reduced waiting time.
Why Severance?
World-Class Medical Techniques And Technology
Cancer
Comprehensive Cancer Care: Total Care Covering Cancer Prevention, Treatment, And Post-Cure Care
Professional Treatment System: 13 Specialized Cancer Centers And 5 Specialized Centers
Difficult Cancer Surgery Team: Comprehensive Patient Treatment For Advanced Cancer
Heart
World-Class Surgical Performance
Coronary Artery Disease Surgery:
An Average Of About 2,000 Cases Per Year
Arrhythmic Disease Treatment: An Average Of 1,300 Cases Per Year
Combined Heart Deformity Surgery: Mortality During Hospitalization 2.3% (5.8% In The US)
Percutaneous Aortic Valve Replacement (TAVI) Complication: 1%
Treatment Of Heart Structure Defects And Vascular And Heart Valve Abnormalities: Complication Rate 0.6%
Atrial And Defibrillation And Cardiac Resynchronization Therapy Transplantation: Success Rate Close To 100%
Rehabilitation Hospital
The First World-Class, State-Of-The-Art Robot Rehabilitation Center Opened In Korea (2018).
First Computer-Controlled Walker (C-Brace) Manufactured In Korea (2019)
Rehabilitation Treatment Specialized For Various Conditions Including Stroke, Brain Injury, Spinal Injury As Well As Pediatric Rehabilitation And Amputation Rehabilitation, Etc.
"Early Rehabilitation Program" Through Organic Consultation Between Departments Of Internal Medicine And Surgery
Robot Surgery
The First 20,000 Robot Surgeries In The World (2018)
Minimized Scarring: Scarring Is Minimized Through A Minimally Invasive Approach To Surgery.
Sophisticated Surgery: High-Resolution 3D Robotic 3D Images Are Utilized, And Slight Movements Of The Surgeon'S Hands Are Corrected.
World-Class Medical Techniques
And Technology
Korea's First International Medical Center
Interpretation For Russian, Chinese, Japanese, Arabic And Mongolian
FAST TRACK For Foreign Patients
Customized Meals For Foreign Patients (Western, Russian, Halal)
Direct Service With Overseas Insurance Companies
VIP Patient Limousine Service, Exclusive Lounge, On-Call Service, Best Service Such As Follow-Up After Returning Home