Severance leads
the
medical industry in Korea
The strong network between these
institutions
as well as their specialized medical services
Yonsei University Health System is comprised of the following:
Severance Hospital (including 5 specialized Hospitals, International Health Care Center, Severance Robot and MIS Center) and Dental Hospital in Sinchon, Seoul; Gangnam Severance Hospital in Gangnam area, located in the Southern part of Seoul (including 3 Specialized Hospitals) and 2 local hospitals in satellite cities near Seoul.
The strong network between these institutions as well as their specialized medical services are what give Yonsei University Health System its invaluable strength.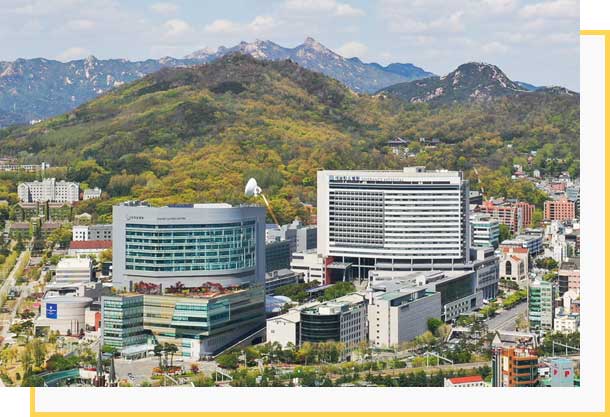 Introduction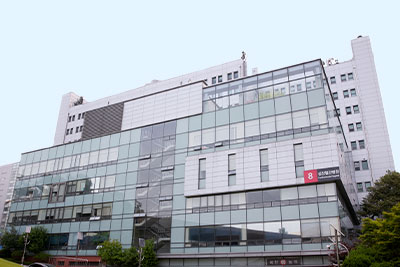 First national specialist cardiovascular disease medical care center
We will protect your heart with accurate judgment and quick action taken
Yonsei University Health System, which has contributed to the development of Korean medicine since 1885, has established the Severance Cardiovascular Hospital that is the first national specialist cardiovascular disease medical care center, to celebrate two centuries since its foundation.
Severance Cardiovascular Hospital consists of our medical staff with deep medical knowledge and skills in the area of cardiovascular diseases. We can proudly say that we provide an exceptional quality of rejection reaction tests and determinations that precede organ transplantations, such as heart transplantation and lung transplantation.
Since we performed the national first coronary angioplasty in 1983, we have been leading the development of new coronary artery treatment techniques and the spread of technologies, while continuously growing through recent co-research projects with the world's most distinguished professional cardiovascular institutions.
Severance Cardiovascular Hospital will commit all its capabilities to the prevention, treatment and study of cardiovascular diseases with our whole medical staff, with the goal of becoming a world-class specialist heart disease hospital.
Why Severance?
World-Class Medical Techniques And Technology
Cancer
Comprehensive Cancer Care: Total Care Covering Cancer Prevention, Treatment, And Post-Cure Care
Professional Treatment System: 13 Specialized Cancer Centers And 5 Specialized Centers
Difficult Cancer Surgery Team: Comprehensive Patient Treatment For Advanced Cancer
Heart
World-Class Surgical Performance
Coronary Artery Disease Surgery:
An Average Of About 2,000 Cases Per Year
Arrhythmic Disease Treatment: An Average Of 1,300 Cases Per Year
Combined Heart Deformity Surgery: Mortality During Hospitalization 2.3% (5.8% In The US)
Percutaneous Aortic Valve Replacement (TAVI) Complication: 1%
Treatment Of Heart Structure Defects And Vascular And Heart Valve Abnormalities: Complication Rate 0.6%
Atrial And Defibrillation And Cardiac Resynchronization Therapy Transplantation: Success Rate Close To 100%
Rehabilitation Hospital
The First World-Class, State-Of-The-Art Robot Rehabilitation Center Opened In Korea (2018).
First Computer-Controlled Walker (C-Brace) Manufactured In Korea (2019)
Rehabilitation Treatment Specialized For Various Conditions Including Stroke, Brain Injury, Spinal Injury As Well As Pediatric Rehabilitation And Amputation Rehabilitation, Etc.
"Early Rehabilitation Program" Through Organic Consultation Between Departments Of Internal Medicine And Surgery
Robot Surgery
The First 20,000 Robot Surgeries In The World (2018)
Minimized Scarring: Scarring Is Minimized Through A Minimally Invasive Approach To Surgery.
Sophisticated Surgery: High-Resolution 3D Robotic 3D Images Are Utilized, And Slight Movements Of The Surgeon'S Hands Are Corrected.
World-Class Medical Techniques
And Technology
Korea's First International Medical Center
Interpretation For Russian, Chinese, Japanese, Arabic And Mongolian
FAST TRACK For Foreign Patients
Customized Meals For Foreign Patients (Western, Russian, Halal)
Direct Service With Overseas Insurance Companies
VIP Patient Limousine Service, Exclusive Lounge, On-Call Service, Best Service Such As Follow-Up After Returning Home